Judy Cho (@nutritionwithjudy) is returning to the Carnivore Cast to talk about #Carnivore75Hard. If you missed our first episode together, definitely please go check it out. It's one my most listened to episodes and one where I receive the most praise (all because of Judy of course). There we talked about Judy's personal nutrition journey, digestion / gut health on carnivore, feeding kids keto, etc.! Judy is a nutritional therapy practitioner, certified by the Nutritional Therapy Association living in Austin Texas. Also, please check out Judy's website and YouTube channel for excellent, informative content. You can also join the Facebook group for #Carnivore75Hard here.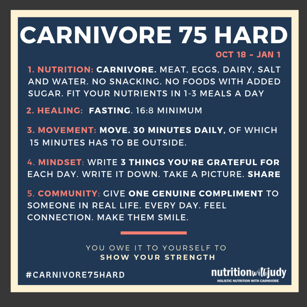 Please consider supporting the show on Patreon or Paypal so we can reach more people:
https://www.patreon.com/CarnivoreCast
This episode is brought to you by Optimal Carnivore. Do you struggle to eat organ meat?
Optimal Carnivore was created by Carnivores for Carnivores.
They created a unique organ complex from grass-fed animals in New Zealand. It includes 9 different organs - Liver, Brain, Heart, Thymus, Kidney, Spleen, Pancreas, Lung etc.
Taking 6 capsules is the same as eating an ounce of raw organ meat from the butcher.
Get 10% off your order by going to https://amzn.to/2sCLB4L and using the code: carnivore10 at checkout!
(currently only shipping within the US)
What questions would you like answered or who would you like to hear from in the carnivore or research community?